Good afternoon, dear readers!
Today's post is about some of products that I've been enjoying lately! Swatches (where applicable) will be up soon (also for products that I want to review in a full post, hopefully those will be up soon too!)
Clairol Nice n' Easy in Natural Medium Cool Brown (around $8-12 CAD depending)
(Not my image, image from here.)
I wanted to dye my hair again as it was uneven looking. Last year I bleached it to almost white blonde after it had been dyed dark brown 6 months or so before, and I also dyed it blue and purple.
I wanted another change so I dyed it brown again, but damage and time left the it uneven. My hair is a light medium ash brown naturally, but it can look a bit mousey and I find that a darker brown can look much better on me. My sister helped me with my partially destroyed hair and trimmed the ends for me. Now with the fried hair (mostly) gone I can brush it with a lot more ease, and the colour is even and richer than before.
Also, having shorter hair means only needing 1 box of dye instead of two! :)
I've used Nice n' Easy off and on since the 90's and I've always been a fan of this product range. It's not as expensive as a lot of other hair dyes and I get pretty consistently good results.
Maybelline Baby Lips Crystal Lip Balm in 140 Pink Quartz ($2-6+ CAD depending)
Whaaaat!! I had NO idea these were so good! Sometime not too long after the original Baby Lips line first came out (I don't even know how many years ago!) I got one and thought "ehh". I didn't get the hype at all. (I also really dislike the name.)
I saw this one at a dollar store the other week while looking for lip balms, and it was pink and sparkly and had the words 'crystal' and 'quartz' in the name, so I had to get it (plus it being half price or less than the usual retail amount helped).
The Crystal line originally released a couple of years ago and I don't think it's as widely available anymore as the Maybelline website only lists one product out of this range.
This works better than almost any lip product I've ever used, and that is saying a LOT for me!
My lips are almost always in a cycle of peeling, and they've been that way as far as I can remember. I've tried quite a few lip products over the years (Blistex, Sugar, Bonne Bell, Burt's Bees, Nivea, etc.) but my lips keep going back to peeling or don't even fully stop while I'm wearing products. Even constantly wearing lip balm doesn't make my lips as smooth as this product does. Also it didn't matter if I went weeks or months without wearing anything or much on my lips (so the dryness isn't from a lip product irritating my skin).
This has a really lovely amount of sparkle in it, a hint of berry scent and the teensiest amount of tint.
If I stop using it my lips will start going back to peel-y central, but it takes a bit longer than it normally would have with other products.
And the softness, OH THE SOFTNESS!!
My lips aren't perfect with any product I've ever tried, I'll probably always have issues with them, but this is probably the closest I've come to having that.
❤
They are
available at Ulta.com
but it's more than twice the price I paid at the dollar store (soooo going back there!). But even at full price I would get this again, it's my new favourite lip balm!
Quo Blending Sponge ($8+tax CAD)
This works so well!!! And IT'S PURPLE!! My sister got this for me and it is absolutely lovely!!! 😃
I would usually apply foundation with either brushes or my fingers in the past (or both), and this is soooo much better. Especially because I have drier combo skin with a lot of flakes that can pop up around my face, brushes can really exacerbate them and this works very well at applying makeup without extremely emphasizing them like other methods can.
Tetley Decaf Earl Grey ($3.50ish+tax CAD)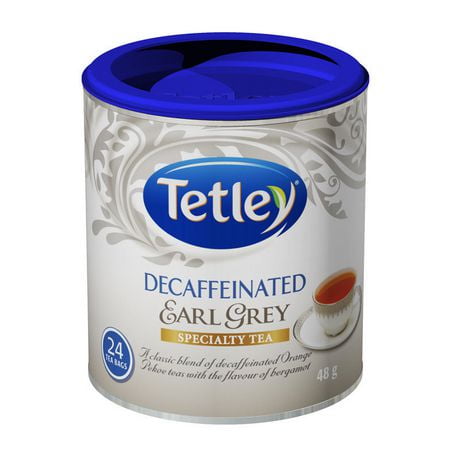 This is delicious!! I love Earl Grey tea but I can't drink caffeine much anymore, so this is a nice version. I usually drink Twinnings decaf, but the store was out of them and this version is really good!!
These aren't all the things I've been enjoying lately, but I have to leave something for future posts! 😊
What have you been enjoying lately?
Have a great day!
-Ash