Christmas Dinner Party - I Feel Fancy!!!
Wednesday, December 18, 2013
Good morning, dear readers! :D

I hope that the week has been treating you well so far. :D

Yesterday evening I went to a Christmas dinner party with my Dad. Every year, his boss takes all of the employee's at his work (each employee can bring a guest, too) out to an amazing dinner! Since my sister and Mom don't usually go, I get to go year after year! >: D

This year (and several times before) we went to The Keg Steakhouse and Bar Manor in Ottawa. Oh.my.gosh, their food is amaaaazing!! O_O



(Not my image, image found here)

I would have taken photos of my food, but I would have felt like a wierdo in the room full of people snapping photos away, then explaining that it was for my blog, then possibly explaining what my blog is about, etc... so instead I just enjoyed my food and ate it with relish. XD

We could order anything we wanted (really...ANYTHING!!! :O They even had Alaskan king crab legs, crazy amazing steaks, lobster, etc. etc.!!).

I got some caesar salad, escargot, teriyaki chicken with mixed veggies, and an amazing fudge brownie thing for dessert!! I also worked on some Guinness and an amazing red wine during the meal, although I couldn't finish either because I have cut down on drinking so much for the past few years that my tolerance is almost zero (I am glad though, because if not for the medical reasons that made me quit drinking for years, I may be in even a worse place than I was before, when I would start drinking first thing in the morning and all day if I could. Very bad times, those were).

Every year they also give out chocolates, and this year it was an 8-piece mixed box of Godiva chocolates (ohmyword, YUM!)!!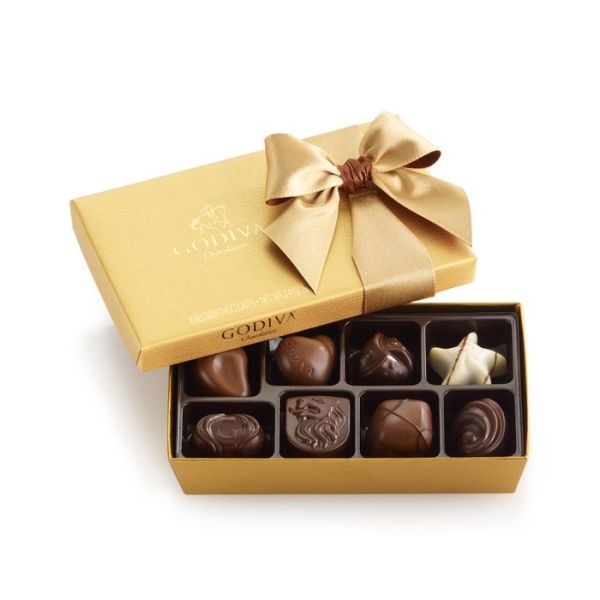 (Not my photo, but this is exactly what we all got :D! Photo from here)

It is great seeing everyone and how they are doing each year. :D A couple of times I have worked with their company on some special orders they had, as they needed extra people. So I also know a lot of their regular employees from that as well.

It was very chilly outside and snowing, but nowhere near as cold as it can be this time of the year.

By the time we had gone home, we had been at the restaurant for at least 3 hours!!

I am so fortunate to be able to partake in this yearly tradition, and I always look forward to next year's celebration. :}

As for the restaurant itself, it is housed in a historical site estate, which goes by the name Maplelawn (ehehehe I love that name!!).

The manor was build somewhere between 1831 and 1834, and originally was a farm estate.

The architecture is really beautiful, and if I was a bazillionaire I would want to live there!! It is also situated on a lovely lot of property, a nicely sized space which is rare, considering it is now in the city of Ottawa.

I never thought to take photos of the place, but since the only time I get to go there is for the annual Christmas dinner, it is already dark outside (being winter), and my photos wouldn't turn out anyway. XD

Here are some photos I found online:



(How the manor looks in the summer; not my photo, photo from here)



(Not my image, image found here)



(Not my image, image found here)

Wooo I feel so fancy eating there! XD *Twirls moustache, adjusts monocle and visits haberdashery*

I reeeally need to re-start my diet, but first I must finish the chocolates and the rest of my brownie, which I brought home. But I am declaring this publicly: I will start eating better and getting more exercise!!! I hope that over the next year I can lose 50 lbs, so wish me luck!! :}

I hope that you have an amazing day!! ^-^

-Ashesela :}